In Just 60 Minutes, You Can OVERCOME Every Job Search Hurdle That Is Holding You Back From Landing Your Dream Job!
If You're Going On Interviews, But NOT Getting Offers, WATCH THIS NOW...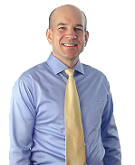 Meet your personal Interview Coach:
Hi, I'm Don Georgevich,
Interviewing for jobs shouldn't be hard, right?
You've got the right skills, education and experience, but you're not getting any offers.
This is what I call a disconnect.
Somewhere, during the interview process there is a breakdown in communication where you're sending the wrong signals to your interviewer.
It could be your verbal communication, non-verbal, first impression, or your experience.  It could be anything and this is why you're not getting job offers.
And that's why I want to introduce you to the Interview Success Blueprint.
Let's face it!  You're stuck in your job search, and the worst part is, you probably don't know why.
But I'm confident I can help you uncover whatever has been holding you back.
Before you do anything else, watch the video above and I'll show you how I can help you.
Here's Everything You and I Will Work On Together!
You and I will sit down together and overcome every obstacle that's holding you back from landing your dream job.
If you've been fired and need help explaining this, I'll give you your best options.
If job interview questions make you nervous, I'll help you overcome this fear.
If your resume is NOT attracting employers like it should, we'll fix this and turn your resume into an employer magnet.
If you're 60 years + and need to show employers you still have something to offer, I'll show you how to do this.
If you're changing careers, I'll help you explain this transformation to employers.
If you have employment gaps, I'll help you hide them.
We're going to fix everything that's wrong with you as it relates to your interview performance. Then we'll look at every detail of your interviewing strategy … Your interviewing skills, how you answer questions, your negotiating ability, resume & cover letter, job targeting plan, and your LinkedIn profile.
If you're struggling with answering questions, I'll work with you to make your answers stronger.
If job interviews make you nervous, I'll help you discover what it is, specifically, that makes you nervous, and show you how to overcome your fear.
If you already have an offer on the table, I'll give you a crash course in salary negotiation, so you can get the most salary and benefits.
You will work with me personally, one-on-one, for 60 minutes, on the phone or over Skype.
I'll teach you to abandon all of the things you've been doing wrong in your job interviews.
I'll show you how to become more attractive to employers so they are more inclined to hire you.
We will address and FIX EVERYTHING that is holding you back from landing your dream job.
When I work with people one-on-one, two things happen:
Your biggest job search hurdles get knocked down and eliminated.
You are thrilled with your transformation! More focused and confident than ever. And you're in a much stronger MENTAL position to land your next job.
Get started today for only $479
This is very powerful stuff. Working with me for just 60 minutes will clear your head of everything that is holding you back from succeeding in your interviews.
I'm looking forward to meeting you on the call and helping you solve your most pressing job search problems.
Sincerely,

PS - The Interview Success Blueprint is like no other program I've created.  It's truly a unique approach to making sure all aspects of your job search are in perfect alignment.
You could even consider it a check-up from the neck up because it has more to do with your confidence and false perception of interviewing.
No guide, no website, no resume expert will ever share what I'm about to share with you in the Interview Success Blueprint workshop. This is truly a deep dive into all aspects of interviewing.
DON'T LOSE YOUR SPOT!
This program requires my direct time with you on the phone, so order the Interview Success Blueprint PRO today and get your name on my calendar before all spots are taken.

***  Customer Reviews  ***
"I have been through a lot of advisors and coaches. You are without a doubt the best one. I thoroughly studied your logic and interview answers from the pedagogical viewpoint and have to say as an expert in this area that you are doing one of the best jobs in advising, guiding, and training for a job search. Thank you. Lily"
"Your tools helped so much. Thank you again for all the help you gave my husband. He worked for the oil and gas industry and had to go through numerous interviews. I would recommend your product to absolutely anybody. Dusty R. Laramie, WY"
"Your program is second to none! This is the best program I have ever seen. After reading your guide, I said oh my God, my answers were wrong in my previous interview. It's no wonder I did not get that job. Thanks, Anis Khan Ashburn, VA"
"The CEO said my interview was one of the best interviews he has been in, in 45 years.  Thank you for what you did for my confidence. Gary M."
"Absolutely the best program! I feel absolutely blessed that I stumbled upon your site and had the good fortune of ordering your program because it changed everything. I would recommend this program to anybody." James N. Vashon, WA"
Interviewers were impressed with me...
"Thanks for your great tool and particularly your personal attention in helping answering my questions. I have just received an offer despite the fact that I was away from the engineering field for over 10 years. I don't think I can get the offer if not for your publication and personal help. The interviewers were impressed enough to make me an offer amongst many well qualified applicants. Andy C. Sammamish, WA"
"You helped me through some very troubling and competitive times
I am now the Executive Director for the Montgomery Economic Development Corporation and you and your suggestions, and your book helped me through some very troubling and competitive times!!!!!!
You are awesome!
You have been the best inspiration to me....Thanks so much.
Charlene Coulombe-Fiore 


Chicago, IL "