If You're Interviewing, But NOT Getting Offers, Watch This Video NOW...
"Learn How to Become Attractive to Employers So They Want to Hire You ...Even if You Have
NO

Interviewing Skills Whatsoever!"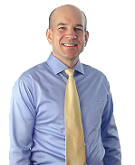 Meet your virtual Interview Coach:
Hi, I'm Don Georgevich,
Interviewing for jobs shouldn't be hard, right?
You've got the right skills, education and experience, but you're not getting any offers.
This is what I call a disconnect.
Somewhere, during the interview process there is a breakdown in communication where you're sending the wrong signals to your interviewer.
It could be your verbal communication, non-verbal, first impression, or your experience.  It could be anything and this is why you're not getting job offers.
And that's why I want to introduce you to the Interview Success Blueprint.
Let's face it!  You're stuck in your job search, and the worst part is, you probably don't know why.
But I think I can help you uncover what's been holding you back.
Before you look at the program agenda below, make sure you watch my short video above to learn how the Interview Success Blueprint can help you succeed.
Module 1 - Strategy Development - 24:00
How to build a job search strategy that will get you hired
How to use Social networks to build credibility
How to prepare for interview questions
How to develop a follow-up strategy
How to increase your job offer rate with the Interview Success Parachute
Learn how "Interview Stacking" can give you superior interview performance
(Interview Stacking is a powerful technique I developed)
Module 2 - Mental Triggers & Jedi Mind Tricks - 11:38
How to create enormous influence and cause your interviewer to take action
How to tell stories using your work experience that compel interviewers to hire you
How to create anticipation and make interviewers imagine you working for them
How to demonstrate authority and be a solution to their problems
How to use social proof to make your candidacy strong
How to use scarcity to increase demand in your job market
Why you need to be consistent with everything you do
Module 3 – BIG Gotchas – 5:21
How to stop making the same interview mistakes over and over
The right things to say to project the right image
How your body language might be sabotaging you
Self sabotage - How to clear out your head trash and stop screwing yourself over
Module 4 - Sequencing - 5:54
Everything you do needs to be done at the correct time
How and when to schedule interviews
How to leverage your first interview in a second interview
Why you need to get as many job interviews as you can
How to handle reference checks
The best negotiation strategy
Module 5 - Writing a Targeted Resume - 12:30
Difference between Chronological and Functional resumes and which one is best for you
What needs to be on your resume for employers to call you
How to use the AR Formula to write strong work experience statements
Why your resume needs to be formatted this way
How to write your resume to offer yourself as a solution to their problems
How to make appropriate deletions and clear out irrelevant work experience clutter
How to get rid of words that weaken your resume
How to use your resume as a marketing tool
Module 6 - Goals - 2:00
The importance of setting goals
How to set and achieve your goals
Why you need goals to succeed in your job search
Module 7 - Resources - 7:34
Trusted career sites with helpful interviewing tools and resources
Best sites and books for interview questions, interview follow-up and resume writing
Module 8 - Positioning, How to attract employers, not pursue them - 11:36
The Accelerated Interview Method - Explained
How to understand the employers needs and adapt your candidacy to match
Best questions to be prepared for
How to make an employer think you are the BEST solution to their problems
How to implement the strategy you created in Module 1
Supplemental Resource Guides
Interview Success Blueprint Mindmap eBook - Pages: 31
Accelerated Interview Method eBook featuring the Attraction Pyramid - Pages: 21
"Your tools helped so much. Thank you again for all the help you gave my husband. He worked for the oil and gas industry and had to go through numerous interviews. I would recommend your product to absolutely anybody. Dusty R. Laramie, WY"
"Your program is second to none! This is the best program I have ever seen.After reading your guide, I said oh my God, my answers were wrong in my previous interview. It's no wonder I did not get that job. Thanks, Anis Khan Ashburn, VA"
"Absolutely the best program! I feel absolutely blessed that I stumbled upon your site and had the good fortune of ordering your program because it changed everything. I would recommend this program to anybody." James N. Vashon, WA"
Interviewers were impressed with me...
Thanks for your great tool and particularly your personal attention in helping answering my questions. I have just received an offer despite the fact that I was away from the engineering field for over 10 years. I don't think I can get the offer if not for your publication and personal help. The interviewers were impressed enough to make me an offer amongst many well qualified applicants. Andy C. Sammamish, WA
"You helped me through some very troubling and competitive times
I am now the Executive Director for the Montgomery Economic Development Corporation and you and your suggestions, and your book helped me through some very troubling and competitive times!!!!!!
You are awesome!
You have been the best inspiration to me....Thanks so much.
Charlene Coulombe-Fiore 


Chicago, IL "
Here's Everything You Are Getting Today!
You get ALL 8 video modules - 82 minutes of pure training and coaching from Don – accessible from your online members area.
You get BOTH the Interview Success Blueprint Mindmap and Accelerated Interview Method eBooks.
I guarantee you will have a huge realization and look at job interviewing with a whole new attitude and perspective.
You'll learn how to re-focus your candidacy with laser precision and position yourself for any job you set your sights on.
You get a 120 Day total satisfaction guarantee.

120 Day Money Back Guarantee
If you're not satisfied for any reason, just let me know within 120 days and I'll gladly refund your entire purchase – no questions asked.
But I'm so confident you are going to love this program because it's going to help you develop a road map and strategy while positioning you to get hired for the job you want.
And it's so affordably priced, anyone can improve their interview performance, even on a tight budget.
Let me take this one step further….
If you use the Interview Success Blueprint and somehow don't get the job you want within 120 days, I'll give you an immediate 100% refund no questions asked.
You won't find anyone this confident about the results their product will bring to you.
You see, I'm so sure of the results this program will bring to you — I am willing to put the entire risk on my shoulders.
Test it out for yourself. Try the Interview Success Blueprint to build your interview strategy.  Once you have, I'm confident you'll be on the right path to landing your dream job.
This is the SAME mindmap and blueprint strategy I use in my $3000 private coaching program.
When you watch and study ALL of the material in this program, it will be like I'm there with you, personally, coaching you every step of the way.
I guarantee you are going to find the Interview Success Blueprint to be one of the most informative, enlightening, and pure helpful job interview training programs you have ever seen.
It's one of the best programs I've created and you can watch it at your convenience, as many times as you want.
If you're struggling in your job search, and you can't figure out why.
If you're sending out resumes and not hearing back.
If you go on job interviews and never hear back...
Then the Interview Success Blueprint is going to put everything in perspective for you and show you what you've been doing WRONG in your interviews...
...and how to fix everything so you can effectively target any job you want.
Let's face it, we can't get every job we interview for, right?
But when you're confident in your abilities and positive that you're doing everything RIGHT, you'll feel better about the jobs you don't get.
But the reality is... When you do everything right, you're much more likely to get hired for the next job that comes your way.
Try the Interview Success Blueprint today.  I know you'll love it.
Sincerely,

PS - The Interview Success Blueprint is like no other program I've created.  It's truly a unique approach to making sure all aspects of your job search are in perfect alignment.
You could even consider it a check-up from the neck up because it has more to do with your confidence and false perception of interviewing.
I've secretly tested the videos from this program on YouTube, and every one of them was met with glowing reviews.  Many just considered it one of the very best videos, ever, on job interviewing.  Others said it should be a prerequisite for anyone entering the job market.
No guide, no website, no resume expert will ever share what I'm about to share with you in the Interview Success Blueprint workshop. This is truly a deep dive into all aspects of interviewing and the #1 reason why employers hire certain people over others.
With all my products, you have my personal guarantee that you have never seen nor heard about most of the strategies and concepts I'm going to share with you or I'll give you your money back.
Grab the Interview Success Blueprint today during this special promotional offer, before the prices goes back up.