Job Hunters Who Use My Behavioral Questions Guide With My Star Interview Questions, Are More Likely to Get Hired For Jobs They Want!
Learn how to master behavioral questions using the STAR interview method and get selected for the most competitive positions on the job market.
Answers to Behavioral Interview Questions
Behavioral Interview Techniques
Behavioral Interview Answers
STAR Interview Questions
Competency Interview Training
Have You Ever Wondered Why You Didn't Get the Job?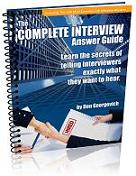 Why do job seekers fail when asked Star Interview Questions?
It was probably because of poor answers to behavioral interview questions. Job hunters often fail to land jobs because they don't understand behavioral interviewing techniques and why employers use them. Employers are simply out to protect their company and a competency interview with behavioral questions is their way making an informed hiring decision.
A Competency Interview with Star Interview Questions Can Beat You or Defeat You
Failing to prepare for a behavioral interview is likely to cost you a lost job opportunity. But, mastering the behavioral interviewing process will prepare you for almost anything an employer could throw at you and quickly advance you to the front of the hiring line.
The Behavioral Interview – Using behavioral questions, an employer is able to assess a job candidate based on essential competencies that have been identified for that position. A behavioral interview, also known as a star interview or competency interview is highly structured with key questions to help employers determine how strong candidates are in specific competencies or skill areas.
Another approach to behavioral interviewing begins with one question and then asks a series of follow-up questions, allowing the interviewer to dig deeper into a candidates core competencies. On this page, we'll discuss how to give effective behavioral answers to behavioral interviewing questions.
Behavioral Interview Questions – The theory of behavioral questions uses past behavior to predict future behavior. The behavioral answers you give an employer will allow them to determine your future on-the-job performance.
Winning the Behavioral Questions Interview Game
There are two styles of behavioral interview questions:
One uses the STAR behavioral interviewing method, which is the most common, and the other explores one or two of your recent accomplishments and asks you to compare them. Your behavioral answers to these questions, based on the competencies defined for the job, will help an employer predict how well you'll be able to do your job. On this page, we'll explore behavioral interviewing techniques in more detail.
Behavioral Questions – A great way to help yourself give perfect behavioral answers to STAR interview questions is to put yourself in the employers position. Ask yourself, "if I were the employer, what competencies would I look for in a job candidate?" When preparing for a competency interview, you need to put the employers needs first.
You do this by specifically identifying the employers needs and then relating your own accomplishments to their needs and requirements. Behavioral interviewing is not difficult when you understand the entire STAR interview process. Our behavioral interviewing section discusses behavioral answers that are certain to impress interviewers.
Star Interview Questions – There are three parts to behavioral interview questions under the STAR interview method.
Situation or Task: What is the situation or problem that you are solving?
Action: What actions did you take to make the situation better? What decisions did you make to resolve the problem?
Result: What were the results of your actions? How did you benefit your company or organization? What did you learn that will help you in the future? Did you save time? Did you make money for the company?
On this page, we'll go into more detail on behavioral interview questions and the STAR interview method. We'll review behavioral questions and how to give the best behavioral answers.
Competency Interview – When you are preparing for a competency interview, it's important to put the employer's needs first. You need identify and understand the core competencies for the position. What skill will it take to be successful in that job? Once you identify this, then you can think about your own past accomplishments that will support you and prove your are capable in the core competency areas defined for this job.
Having great behavioral answers is not enough. During a behavioral interview, it's also important to maintain good non-verbal communication and to make certain your non-verbal communication does not contradict what you are saying. In this section, we'll look at the competency interview detail and the key characteristics of good behavioral answers to difficult behavioral interview questions.
More on: Behavioral Interviewing Questions:
Behavioral Answers
Behavioral Interview Questions
Star Interview
The Behavioral Interview
Competency Interview
Interview Techniques
Interview Questions
Interview Answers
Interview Tips
How to Interview
Interview Preparation